Reggie's Blog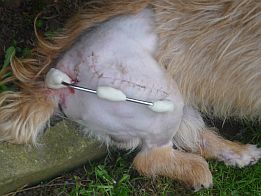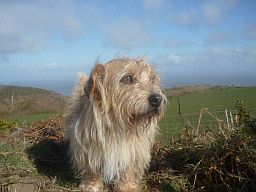 From RTA to keen adventurer...
This is Reggie's video story and Blog.  Watch and read his story, in his own words.  From a road traffic accident victim to Exmoor explorer to super model and the face of The Cotswold Dogs & Cats Home appeal; Reggie has proven how resilient animals can be with the right care.  His story starts at the bottom of this page, which is getting quite long with all his adventures and the loves in his life.
Update June 2020. Reggie is still with us although getting stiff with old age and his adventures are firmly at an end.  His owners still dote on him and he lacks for nothing.  He especially enjoys his tea of an evening.
Reggie's escapades in Cornwall 2011
View Reggie's escapades in 2011 on vimeo!
My Blog
Since I was rescued and put back together again, I have become a bit of a celebrity.  I was thinking, "how do I help animals like myself that have been saved" and then it came to me. I'll write a blog, I thought, and here it is in all its glory.  Being my dog blog, it's all about me - my favourite topic.
Lots of love, Reggie...
January 2017 - a happy New Year to one & all
I had a fabulous Christmas down in Cornwall for a few days with my new home companion, Trixie.  Like me, she came from the Cotswolds Dogs & Cats Home people and is very good natured.  That said, mum seemed a bit upset when she climbed some rocks at the beach and proceeded to guzzle down a dead fish.  My, how her breath smelt and she didn't share any of the fish with me.  Blow me down, she did almost the same the next day with a dead crab.  Could have stripped paint with her breath that day. What a Christmas we had. Laugh?  I nearly cried from all the fun.
This is a picture of me and Trixie.  Typical girl wearing a coat when she has a perfectly good one attached.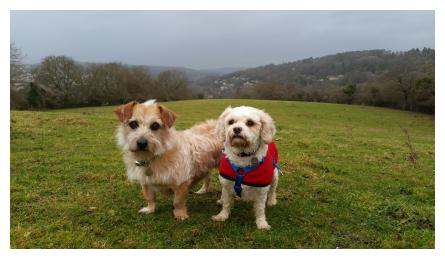 Summer 2016 and all is well
This summer has seen a good deal of reasonable weather, which is nice when you are out and about sniffing in the undergrowth and lazing about in the garden.  It's the Olympics again and I have given up trying to enter.  I am just too old to make my debut even though I am sure that I would do well.  Someone pointed out that I probably wouldn't get past airport security with all the metal bits inside me.
You have probably been wondering why I haven't been corresponding with you all very frequently.  Well, the answer is that my computer broke down and I couldn't get it going.  I tried switching it off and on, jumping on the keyboard, eating the mouse, chewing cables – all to no avail.  And how long do you think it takes for a dog to save up for a new PC?  Ages and ages; especially when the option is saving or having a delicious treat.  In the end, I had to resort to blackmail and I finally got my way.
I have been "doing a few shows" like the steam fair at South Cerney.  It was great fun and the CDCH fun dog show was a great success – lots of contestants and lots of prizes.  I met Sarah Frost, our fundraising lady and she told me lots of local gossip and news, so I am feeling in with the Gloucestershire in crowd. Blimey, I feel so happy.
Anyway, enjoy summer.  XXX  Reggie
Summer 2015 and all is well
It's going to be a fabulous, warm and sunny summer.  At least, that's my hope for 2015.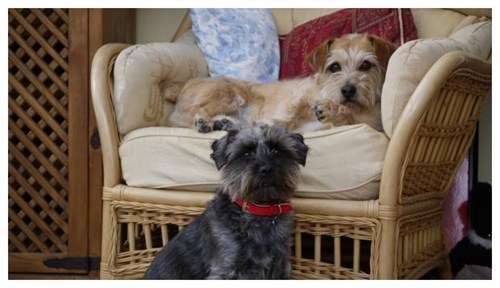 I have been out and about recently.  I popped over to Westonbirt Arboretum to see a world renowned rock band and thoroughly enjoyed the experience (A46, cut down Bowldown Rd & right on to the A433).  Mum made sausage rolls for me and I have to say they slipped down a treat.  They didn't even need any sauce.  Apparently, it was a bit of a pain to get out due to traffic congestion but I have to admit I missed it all.  As soon as I got in to my bed in the back of the truck I went out like a light and slept all the way home.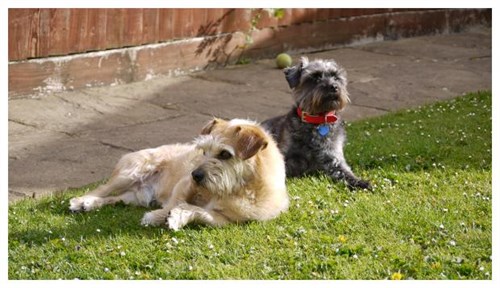 Anyway, enough about me for the moment and let's have more about the Cotswolds Dogs & Cats Home.  I have to say that those lovely people on site have been doing a grand job of building the centre.  It is coming on leaps and bounds – even so, it is amazing to think that we are still a year away from opening to the public.  There is so much work to do.  I had a chat with Carolyn and she has promised to keep the news about the build up to date on the web sites.
I am doing a few shows at the weekends.  It is amazing who you come across at them.  I nearly bumped into a famous television and design personality recently at the Cotswold Show (Cirencester) but he turned away at the last minute.  I think he must have realised who looked the most handsome and decided not to risk any comparison.
A friend of mine came to stay for the weekend and I think he felt a little intimidated by my good looks and exulted position with the ladies.  I think these pictures speak for themselves.
Anyway, lots of love to you all and I hope you have a fabulous summer.  XXX Reggie.
Eddie the Dog Saves The Day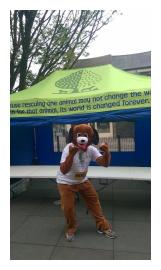 What is a boy to do on Sunday morning?  For me Sunday is a day for relaxing and taking it easy.  After all, I am just a dog with good looks and short legs.  Mum will get up soon and start preparing breakfast.  My favourite is sausages.  I hope it is sausages today, all warm with just a little coating of fat to help them down.  Oh yes, I like sausages – I must stop dribbling.
Today is the 10th May – Stroud Half Marathon and I was all set to take part.  Mum had completed my application form and I had started getting sponsorship when, to my utter surprise, I got a thorn in my foot.  "OUCH" I said, "OUCH, OUCH, OUCH".
Mum was quick to spot my predicament and pulled the offending thorn out of my foot then dabbed it with antiseptic. "OUCH" I said.  I was not a happy boy.  "There goes my chance of winning the Stroud Half and collecting much needed funds for the Cotswolds Dogs & Cats Home", I said.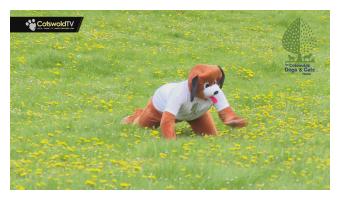 Mum got on the phone straight away to her friends and Uncle Tom said he knew someone who might just be able to stand in and make things right.  Enter Eddie the Dog.  What a big boy he is.  Apparently, his real name is Oliver bit I think Eddie works much better.
Anyway, "don't you worry Reggie", he said, "I will take your place but I don't know that I have your tremendous turn of speed and stamina.  I don't think I can win the race but I will give it a good try".  "Don't worry", says I, "it's the taking part and representing the cause that is really important."  And it came to be that Eddie the Dog represented the Cotswolds Dogs and Cats Home and ran his heart out for us all.
England Expects
Shaun the Sheep is being used to attract young people to the game of rugby during the 2015 world cup.  English football seems to drag out another manifestation of a lion, cartoon obviously; otherwise it would be like Roman times if we had a real lion on the pitch. I wonder if lions ever made it as far as Cirencester…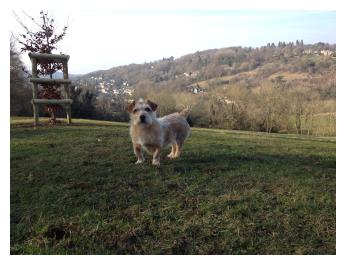 Anyway, I think it's about time we had a real mascot that represents the English character and, of course, I am thinking I should be the chosen one.  After all I am blessed with stunning good looks, which is more than you can say for our men.  That said, I have just had an even better idea; England's women's teams – they would appreciate my good looks, give me lots of cuddles and maybe even the occasional treat.
That's it.  I have chosen.  I am in training.  All I have to do is come up with a plan.  Does anyone know of a local sponsor for my training?  What colour shorts should I wear?  Of course – Cotswolds Dogs & Cats Home green with a lovely white shirt with a picture of me on it.  Goodbye lion.
Spring 2015 and Space Walking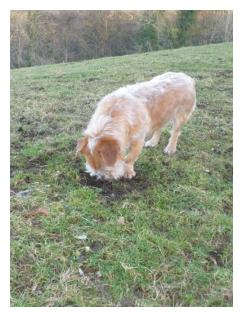 I was having a run around Rodborough Common the other day with my mate Bailey, the blond Lurcher, and we got talking about raising money and he mentioned sponsored walks.  He said that he had been on a couple and that they are quite good fun even if you have to stay on the lead.  He went on to say that if lots of people join in it can raise lots of money for the Cotswolds Dogs & Cats Home appeal.  So it got me thinking and I said that I had heard of "space walks" – did he know anything about them.  Bailey said that you would need to be sponsored to go to the International Space Station, which is a bit unlikely because it is really, really expensive and anyway you could fall into a worm hole and never be seen again.
Anyway, I got home and thought about what Bailey had said.  Was he trying to scare me off by mentioning worm holes that made you disappear for ever?  That didn't work – here's me being really brave and looking for worm holes in back garden.  Bailey, you didn't fool me.
2014 and the summer went on and on and on
As the old Beach Boys song (Surfin' USA) goes -
We'll all be planning that route
We're gonna take real soon
We're waxing down our surfboards
We can't wait for June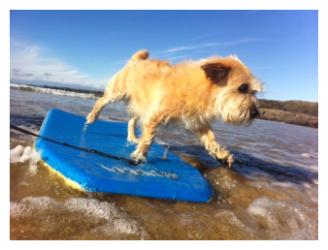 Not June but October and can you believe it? The weather has been absolutely fabulous.
I went to our equivalent of the California coast, Cornwall, pulled on a pair of baggies, slipped on my Huarachi sandals and plumped up my bushy blonde hairdo.  Ladies, the result is obvious.
Next stop Christmas - don't forget to buy your cards from our shops - they are the best and have been designed by a local artist.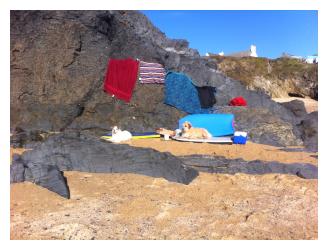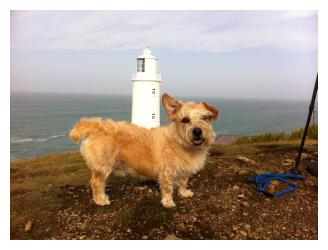 God I am Just Gorgeous and it's Official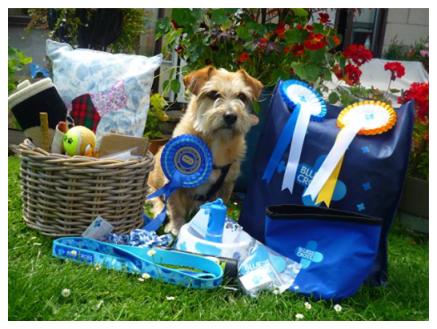 August 2014.  People will remember it for years to come; the year Reggie entered a couple of competitions and became an official stunner.
I was at the Gloucestershire Steam Extravaganza and noticed they had a dog show running, so I said to Mum, how about it?  So she toddled off and came back with the entry form; I had to give her a bit of help but eventually we got all the right bits of information in the right places and off she goes again to pay the fee.  I wasn't too chuffed at this point when she told me it was coming out of my allowance.
Anyway, we stroll down to the dog show, I hang around looking good and the next thing you know I wasawarded Best Rescue and also got a second in the Champion of Champions Class.  Unfair do I hear you say?  Probably says I.
A bit of a food catastrophe
It is an unmitigated disaster.  The oven has broken down which means that mum isn't getting any and nor am I.  Okay, you might say it is not essential for a terrier to be fed Coq au Vin or bœuf bourguignon or Spaghetti Bolognese (ragù to those of us with a discerning international palette) or (for real comfort food moments) Beef Stew and Dumplings.  But hey, I matter and whatever you might think, I need to keep my strength up.  After all, good looks come at a cost and while all the girls are looking in my direction just hoping I will give them my "okay come on over and see me" look, the boys are also looking in my direction for any sign of weakness.  They all want my top dog position and I cannot blame them.  That gorgeous little Yorkie terrier this morning...  It was all I could do to stop dribbling.  And her suggestions.  Who would have thought a Yorkshire lass had such a developed vocabulary?
So the way I look at it, a diet of good food goes with my good looks.  I need my international cuisine not cold bits of meat mixed in with dry old bits of biscuit out of a sack.  Where is the love in that kind of dish?
Is that the doorbell - yes it is.  Great. Time for some noise and mayhem.  I wonder if I can get mum to shout at me again.  A no brainer really.  When has she not...  Sometimes it is all too easy.  Here we go.
But WAIT; if it is the oven repair man or woman, maybe I need to be a little less scary than normal.  I don't want to make them too afraid.  Perhaps for once I might just wait and see who it is before I make up my mind.  To bark or not to bark, that is the question.
What's in a theory?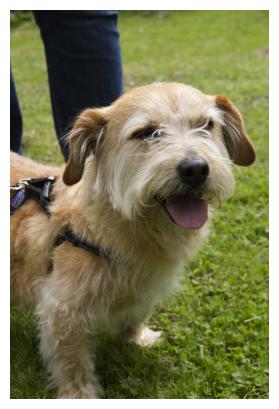 Is summer finally here?  I have been out and about raising money for the cause (£102.50 thanks to the lovely team at Cirencester College - see pictures) and getting a bit of grooming as well.  I suppose someone in my position has to look good at all times.  I must say the girls looked please with themselves.  And so they should - I look fantastic.  Anyway - a bit of a secret - I have fallen in love with the geogeous one - the one wearing her grooming overall.  Wow, what a stunner.
Anyway, enough of that, I was having a bit of a doze in the sunshine, enjoying the warmth and contemplating particle physics (specifically quantum gravity and  the two basic types of string theories: those with closed string loops that can break into open strings and those with closed string loops that can't break into open strings) when my contemplation was rudely interrupted by a loud banging noise and some rather strident cursing.  I kid you not, the neighbours must have thought the world was coming to an end.  It turns out that Mum had been grilling some bacon for a mid-morning bacon roll treat and dropped the grill pan as she took it out of the oven.
After hiding behind the shed for several minutes, I found a piece of string, had a good chew and felt brave enough to face the fiery Mumsta and see if there was anything I could do to help.  So I had a sniff around the kitchen floor and there it was, my contribution to clearing up the mess.  A piece of freshly grilled bacon, just how I like it, sat in the corner.  Well, I didn't need to be asked; in the mouth, out of the kitchen and a few treasured moments of bliss.  Could the day possibly get any better?
So I went back to contemplating particle physics and the impact of Cern and the Large Hadron Collider when I suddenly started thinking about Swiss chocolate, then chocolate ice cream then vanilla ice cream.  It must be time for lunch, I thought.  So I went back to the kitchen to see if anything was happening when the doorbell went.  Fantastic!  Time for a little bit of verbal intimidation. BARK, BARK, BARK.  BARK BARK, BARK. Mum's shouting, Saffie has joined in.  BARK, BARK, BARK.  Whoopee do.  Who's behind the door?
When Mum finally got to the front door, she opened up and there she was; Lady Bluella Johanna Jasmine De Gascoigne, the dog with the longest French pedigree the world has ever seen.  "Hello Blojod", says I, "to what do we owe this honour?  It isn't often we get aristocracy visiting us".  "Mais oui", says the fragrant Blojod, " we need your 'elp".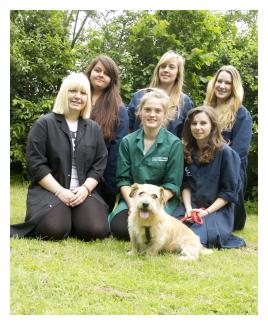 It turns out that Blojod's pedigree owners are hosting a bit of a soiree tonight to help raise funds for the Cotswolds Dogs and Cats Home and their guest of honour is stuck at Milan airport in the grip of an almighty thunderstorm.  I can't say no, can I?  After all I am a patron of the fundraising campaign.  I suppose it is going to be a good end to the day; canapé, sea bass, fillet steak (to order) and ice cream.  There is plenty of time before I need to start grooming myself.  I think I might wear my macho harness tonight...
Where was I?  Ah yes, the Higgs boson (god particle)...
An early morning run leads to an embarrassing moment
It all started so well.  As you know, since I had my leg (and life) saved by those lovely people at the RSPCA South Cotswolds Branch, I have been a bit of a keep fit nut.  Every morning I can be seen running around the parks and woodland near my home.  Sometimes I sprint - especially if there is a rabbit or a squirrel to chase, and sometimes I jog.  Often I will mix the two together and jog for a bit before breaking into a sprint and then jogging again.  It is a bit repetitious but hey ho - it's got to be done.  I have heard mum talking about fitness regimes and that's what I have - a fitness regime.  I must talk to mum about hers.  I am sure we can make some improvements there…
Anyway, as I was saying, the day started so well.  We went off a bit earlier than usual.  I think mum needed to get her hair "done".  I don't know what that entails because I can't see any difference when she gets home and she only has fur on top of her head.  Fortunately, she doesn't ask me otherwise there could be some more embarrassing moments in my life.  So we went for our walk really early, mum went off and came back with her hair looking just the same as before and off we goes in the car to see my new auntie Lilly.
It was a bit of a drive; eventually, when we arrived, it was time to for lunch.  Well, all I got was a pat on the head before Mum and Auntie Lilly went into the pub for pint and fish & chips with mushy peas and bread and butter.  Not my style (give me a warm, pan fried steak (rare) with a little red wine jus any time) but a warm chip wouldn't have gone amiss.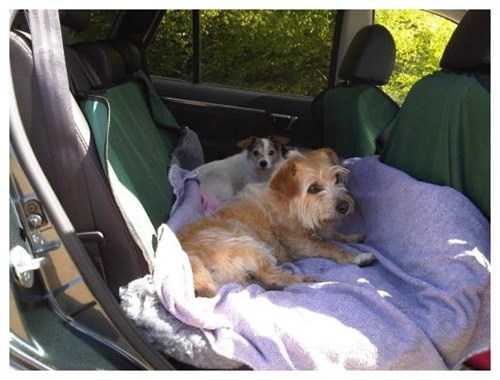 So I had a nap to take my mind off things and the next thing I know we are off again - back to Lilly's new house.  Out we all get, including Saffie (girlfriend) and me - straight in to the kitchen.  Mum had bought Auntie Lilly a present - a posh mat for just inside the back door.  All fashion designer stuff.
"Hey Ho" I thought, we could be in for a treat here.  Biscuits maybe?  But no, rien, nada, nothing - at this point I started to go off my new auntie and something started to go off inside me.  I had to go.  But where?  Outside of course.  "Help", I cried.  "Help, help, I have to go".  I ran around the kitchen as fast as my little legs would take me.  "Help, help, open the back door!!!".  But still no reaction - Mum and Auntie Lilly were just gassing away, laughing, ignoring me, and talking about curtains and colour schemes.
But the moment had come.  I had to do it now - but where?  I thought for a moment... and then made my choice.  A bit obvious but hey - I am a dog.  So I went half on the new mat and half on the kitchen floor.  I can hear them now.  If only he had...
Still it is a bit embarrassing having so many ladies examining your output for the day.
Shock News - May 2014
I nearly got married. It wasn't that I couldn't commit or that I no longer liked the idea, it was simply embarrassment.  Let me explain.  I have mentioned my girlfriend previously and we had a couple of rawhide chews (good for the teeth) and a long chat about our dreams and aspirations.  It turned out that we both wanted to get married and, by good fortune, to each other.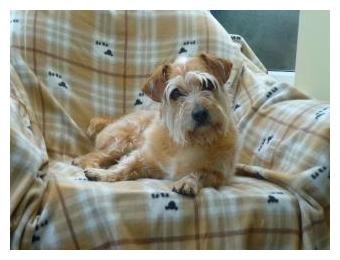 So we got on the internet and did a bit of research.  We started off by looking for all the normal things, what to wear (the bride in mostly white), vows, location, etc, etc.  We were so excited.
We checked on health issues and there was no mention of metal parts preventing a marriage ceremony from going ahead, so we thought we were in.
How wrong we were.  It turned out we had to produce birth certificates.  This is mad, I thought because it is obvious that we had been born.  Anyway, we had to find out what information we needed to provide so we went back to the internet and this is when the embarrassment grew and grew.
Name of father - don't know.
Name of mother - don't know.
Date of birth - don't know.
Location - don't know.
We gave up our dreams of wedded bliss and had another rawhide chew.  She started at one end and I took the other.  But then she pulled it out of my mouth and started grumbling at me.  Hmm, I thought, a lucky escape there.

Practicing our wedding vows.  I know I look great - see the admiration in her glance?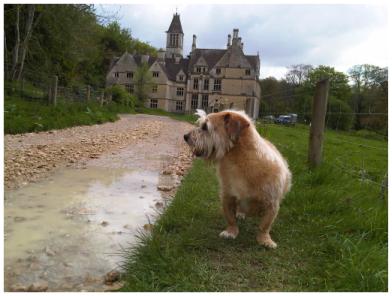 I look good and the venue for the wedding reception looks pretty useful too.  It is even a complimentary colour - don't you think?
May 2014
Sorry but I haven't really had time to update my blog of late.  Mum told me of for being a "tardy chappie".  So here it is.  I am not proud, I fell down the stairs.  What it is, see - is that the stairs are too big for my short legs...  Anyway, I have cut down on my journeys to the top of the world (Ma) and have relegated myself to the ground floor.  So does that constitute news in the blogosphere?  I doubt it.  I am embarrassed and my pride has a great big bruise on one side.  So to part two of my story - me and the German Shepherd.
We were out for a walk, just the usual pottering about, enjoying the warm weather (what warm weather?) and then suddenly, out of nowhere came Hans.  I call him Hans but his real name is Jeremy...  He is a big boy with legs that are much longer than mine... and he stood there looking all smug and big and strong and manly.  Well, I wasn't having any of that in front of my girl, Saffie, so I told him to "move on" (not quite the words I actually used) and made a "move" on him.  Hans didn't know what to do with himself.  He isn't used to smaller dogs taking him on and, to my utter amazement, he shot off down the field.  I feels a bit of a man today...
Anyway, another thing, I have a secret.  I can't say much but I am told I need to keep myself looking really good because I am going to an "event" towards the end of June.  Can't say more but when we know for certain, I will let you know when and where.  You know how I like to meet my public and I know you all want to meet me again.  It has been a while since the Cirencester shop opening.  Which reminds me, I haven't had an invitation from the Countess.   Maybe she needs reminding.  Where did mum leave her mobile phone?
I will try and keep my blog a bit more up-to-date.  Caio girls.
January 2014 - the blog continues
What a wet start to the year.  With legs as short as mine, you tend to notice wet grass and puddles and not in a good way; especially as a I get a really rough towelling when I get home.  I was just reminiscing with my girlfriend and have realised that the Branch first helped me at the end of 2010 when I went under that car.  I know I am a good looking, fabulous little mutt and anyone that meets me finds it a real privilege but I have to say a big thank you to the staff, volunteers and trustees of the RSPCA South Cotswolds Branch. Without them, I wouldn't be here and you wouldn't be enjoying my blog.  Love and kisses to all the girls.  Reggie XXX
Christmas 2013
It has been a lovely year with a wonderful, sunny and warm summer.  I have been hard at work posing for pictures and opening shops.  Well, one shop in Cirencester and, I don't mean to be picky, but I had to share the limelight with a VIP.  I mean, who is the Countess Bathurst?  I can't see her on the front page of our Cotswolds Dogs & Cats Home brochure.  Still, she seemed nice enough.
As I am now an international super model, I thought I might as well capitalise on my good looks.  I went into really tough negotiating mode before I agreed to be the face of the Cotswolds Dogs & Cats Home and really went for the jugular by demanding three tins of my favourite dog food.  After a monumental period of negotiation, we mutually agreed I would enhance my public presence for no remuneration whatsoever.  That's what I call a good result; I think.
Anyway, enough of my meandering nonsense.  I wish you all a very happy Christmas and a wonderful New Year.  If you feel the urge, I would be most grateful if you could start to make donations to my chosen appeal - the Cotswolds Dogs & Cats home.  Simply click on the icon below and start giving.  You know I'm worth it...
Lots of love, Reggie.

The Olympics are over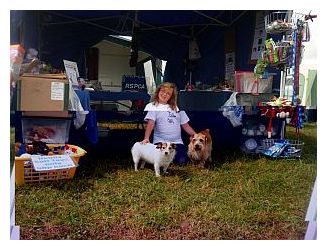 Who would believe it?  I really thought that they would regret not selecting me for the 400 metres but Team GB has really pulled it out of the bag.  I put it down to me inspiring them to do better than a rescue dog.  Motivation matters.
Anyway, I took a bit of time out from watching the Olympics on the television to do some fundraising at the Gloucestershire Steam Extravaganza at the beginning of August.  All in all, we had a good time although there were some soggy bits to the three day event.  We managed to raise money towards helping out other cats, dogs and rabbits in the care of the RSPCA South Cotswolds Branch, which made me feel better as I owe so much to them.  These pictures show me and a couple of little volunteers helping out on the stall.  I have also added another picture of me taking a break, which you have to admit, makes me look pretty cute.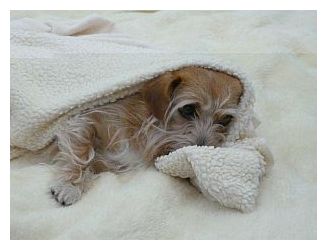 Olympic August & Reggie Perks Up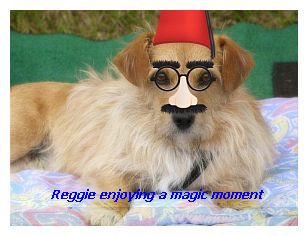 The weather is still pretty awful in the Cotswolds.  One minute sunshine, the next it is pouring with rain.  Still, the rain has been a really good excuse for sitting on the sofa watching Team GB put on an extra special show.  I know it would have been better with me but you just can't beat bureaucracy.
Nailsworth has won an Olympic gold in the men's coxless fours through Peter Reed and I take my hat off to him.  Well done Peter.  Standing at 1.97m and weighing an impressive 100kg, you are surely an inspiration to everyone in Nailsworth.  If you have any doubt, you are my number one hero, at the moment.  Peter's lung capacity has been recorded at a massive 11.68 litres, almost double the male average. Even fellow rower Sir Matthew Pinsent, who was once told he had "the lungs of a horse", was measured at a mere 8.5 litres.  I am impressed.
July 2012 and Reggie is disappointed
It is the 27th July and I have received official confirmation that I will not be granted a National Insurance Number, which means the selectors will not put me forward to break the 400 metres world record.  On the bright side, it hasn't rained for three days and the sun has been shining.  Being an optimist, I think running around Gloucestershire (in 400 metre bursts) at world record pace in the sunshine takes some beating.  Particularly when there is a biscuit waiting for me when I get home.  Enjoy your summer...
June 2012 and Reggie prepares for the Olympics
The weather hasn't been exactly wonderful and I thought to myself, I can't just sit here and moulder in front of the television, watching the England football team stutter its way to a dismal performance against a good team, which turned out to be Italy.  So I took myself off to the Dorset Devon border; I had to remember to take my "owners" and I think they enjoyed chauffeuring me around and they ambled along behind me as I toured the beauty spots on foot.
Anyway, we had some good weather (and some bad) which gave me the opportunity to get in some speed, endurance and weight training, as you can see from the pictures below.  I also took time out to relax and work on my tan.  After all, you don't want me standing on the podium looking pale when the gold medal for the 400 metres is placed around my neck.
I am still waiting for confirmation from the team GB selectors but I have written to them confirming that I am on track (excuse the pun) to break the world record in the 400m finals and that I have applied for a National Insurance Number. Hopefully, I will get the official OK before I set off for East London because I aim to run from the RSPCA shop in Nailsworth to the Olympic venue over the course of a week and want to rest up the day before my first race.
I also plan to attend the RSPCA volunteer cream tea event on the 1st July.  They all work very hard to make the Branch successful and deserve to meet their local hero, me.  I will do my very best to meet and greet them all, provided I am let off the lead.  Hopefully, there will be enough food for everyone; all this training leaves me with a hearty appetite.
Now, the one question I have of you is - what style of haircut should I go for? Do I stick with my long, flowing locks or shall I go for a macho short cut.  Let me know what you think by tweeting @RSPCASouthCots either hair long or hair short.  I look forward to hearing from you.
Here are the pictures - they show that I am at the top of the world (rankings).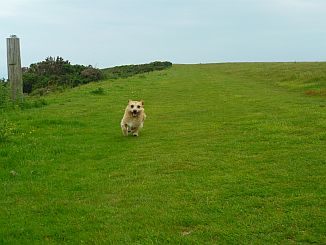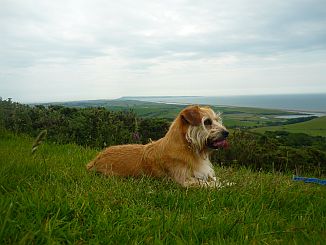 Reggie breaks his personal best then takes a quick breather...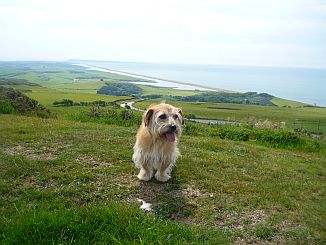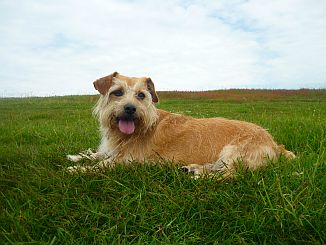 Preparation is key, as is looking good.  Reggie knows how to do both...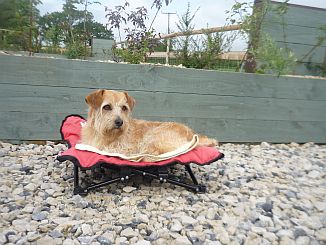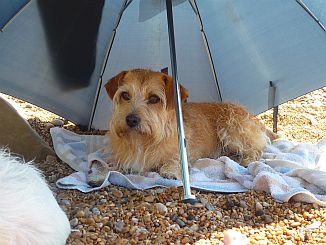 Sometimes an Olympic athelete needs to relax and mentally prepare...
Congratulations Forest Green Rovers (2011 - 2012 season)
As a local celebrity, I sometimes get asked to open supermarkets and various events.  No such luck on Saturday the 14th April; I had to sneak in to watch Rovers beat Darlington 2 - 0 at home in the penultimate match of the season.  Getting out was a bit hairy but once I put my foot down (well all four of them) there is no stopping me.  Anyway, congratulations to Rovers for a turnaround season.  Like me, they have ended up significantly better a year on.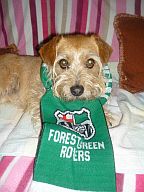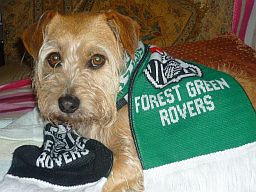 Next year it's the first team for me.
Olympic Rejection Leads to New Fundraising Idea
I am completely devastated because my application to join the Olympic team has been refused.  Apparently, I need a National Insurance Number (whatever one of those is) before being considered.  They also pointed out that they don't hold Curling at the summer games because it is a winter sport.  And they said I was too short and couldn't "curl" myself down the ice.  In short, my Olympic fundraising idea is off and I need to think of something else that will help raise big bucks for the branch.
I was thinking of doing a Hadrian's Wall Trek but the thought of trekking for 25 miles is just too far for my little legs; although the scenery is supposed to be stunning and it would be a fine backdrop for a photograph of me.  Then I though, how about the London Marathon but apparently it is even further and you are supposed to run the whole way…  There must be something I could do.  Maybe I will have another nap and something will come to me.  It's got to be worth a try.
Then it came to me. There I was, fast asleep, dreaming of sausages, dreaming of running faster than my Lurcher friend, Bailey, when I was woken up by loud applause.  Not for me (for a change) but for some fashion show on the telly.  I sat there and watched for a few minutes before I realised what was missing.  Forget Vivienne Westwood, Sarah Burton, Jasper Conran, Roland Mouret, Giles Deacon, Matthew Williamson, Margaret Howell, David Koma, Holly Fulton and Betty Jackson – where is the good looking dog?  The dresses looked OK but imagine how much better they would look next to me.  I bet I could get paid millions.  Time to write a few emails with accompanying photographs of yours truly…  In the meantime, if you want to help me raise funds for the Branch, get your payment card out and click on the icon below.

Winter Update
Winter is a funny old time of year.  First there's Christmas; lazy days of turkey, sausages and a warm fire to sleep next to.  There are lots of visitors too but they tend to be a bit noisy and it is hard to get to sleep with so much going on.  Then the next thing you know it turns really cold and white stuff appears on the ground.  If you aren't careful you can end up on your back with your paws in the air, it is so slippery.  Me, I take it steady and look forward to getting back indoors by the fire.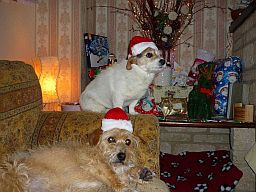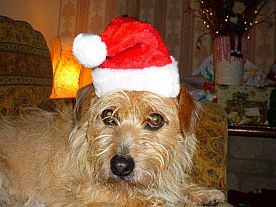 More turkey please, mum?  A sausage would go down nicely too.  And a biscuit or two...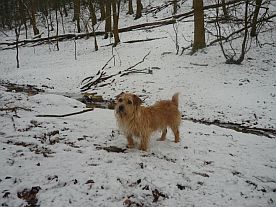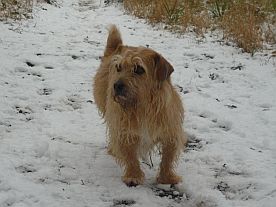 Can we go home now?  I've done what I needed to do...
Anyway, now that spring is in the air, I have decided that I have become a bit lax on fundraising.  When you think how much the RSPCA spent putting me together and getting me fit and healthy, I think I owe them something.  So I have decided to enter the Olympics this summer and win a sponsored gold for England and the South Cotswolds Branch.
I have decided I am not fast enough for the 100 metres and the hurdles look a bit high for my short legs.  The hammer is just too darn heavy and I am not keen on swimming. So I have settled on Curling.  It should be a piece of cake to slide down the ice and sit in a circle at the other end.  I have a bit of an advantage over lumps of granite because I can use my claws to slow down and can lean from side to side as necessary.  Now where did I put my application form?
PS – If you want to help me raise funds, get your credit or debit card out and click on the icon below.
November Update
As the winter has drawn in, I have been contemplating life, the universe and everything. And then it struck me, winter is cold and horrible and not a good time to be a homeless animal.  So I thought a bit more and it occurred to me that animals are missing a trick but I don't know how to crack the problem; maybe you have the right contacts and can help.
So my proposition is that one of the big TV companies runs a telethon on behalf of animal charities.  What do you think?  I support Pudsey Bear and all he stands for, so why can't a big name celebrity take on something like this?  After all, when it comes to sharing cruelty and neglect, animals must come top of the list in terms of numbers.
If you think you can help let the branch know.  If you want to do something more immediate then click the donate button (top right) of the screen and donate now.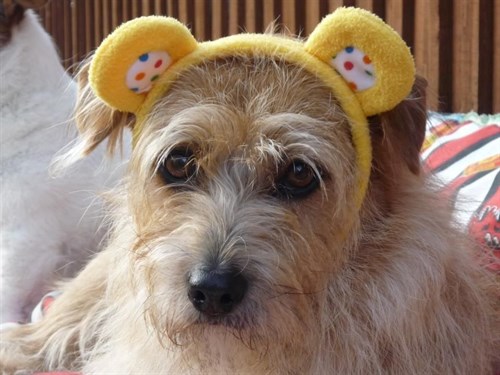 Me and my girl watching Pudsey do his stuff.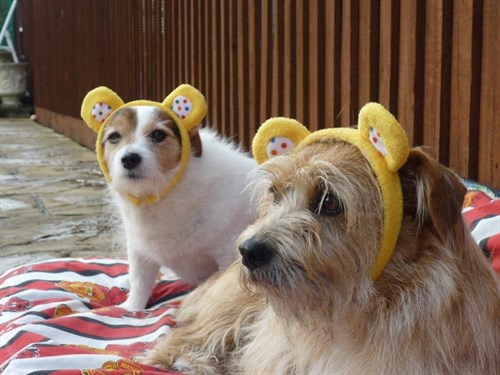 Late Summer Update
Well, well, well, would you credit the weather we have been having of late?  The good news is that I took advantage of the really hot weather at the end of September to develop my new passion – I have discovered being a beach bum.  Now you might think it is great just hanging out in a pair of shorts, a tee shirt and flip flops.  Me, I go as nature intended – no clothes at all.  Anyway, we shot off to Padstow for a long hot sunny week – fantastic, especially now that I have developed the muscles in my damaged leg and I am nearly as fast as I used to be.  So I took the opportunity to practice my sprinting over the course of the week.  I think you will agree that with all the exercise, sunshine and fresh air I look even better than normal.  I loved the Camel Trail but was very disappointed with the wild life - not a humped creature to be found.
In one of the photo's you can see my new girlfriend; ladies please do not be jealous, I am sure I can cope with more than one at a time – just form an orderly queue...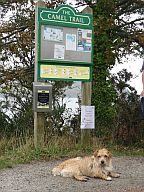 5 miles & no camel...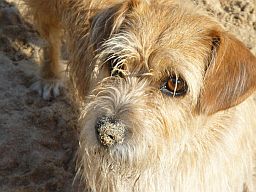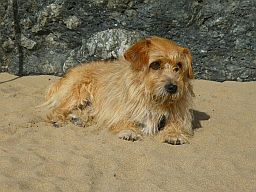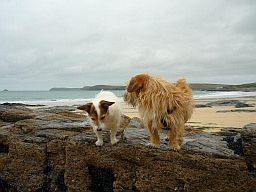 PS - The route we used to get to Padstow was A419, M5, A30, A395, A39, A389 & B3276 - why do I know these things?  Little dog, big brain?  I must be blessed.
August 2011 Update
Some of you were lucky enough to see me on the RSPCA stand at the South Cerney steam fair over the 5th, 6th & 7th August.  I have also had a trip to the Malvern hills (picture below) and to Ducklington, near Witney in Oxfordshire (A40 then A415) see the photo of me with Mickey Mouse.  I also went as guest of honour to the Welland Steam Rally held in the beautiful Worcestershire countryside, mid-way between Upton-Upon-Severn and Malvern (M5, A4104, B4208) 29th, 30th & 31st July.  Two beauties in one place – it was stunning.
Anyway, at South Cerney we had some lovely pin badges donated to help raise funds to support my recovery - "In memory of Jim with thanks from Claire, Karen and Mark".  And a thank you from me; without such support where would I be?  There is a picture of the RSPCA stand at the show – the only problem is that I am not in the picture; so it is a bit dull.
All in all, I have had a great time but, perhaps, the best news is that I have been "officially" adopted.  I have told the wonderful people at the RSPCA that I will continue to update my blog from time to time but they must appreciate I have to fit it in with my hectic lifestyle.  The sun is shining and I feel another nap coming on…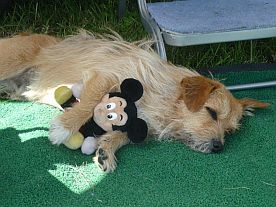 Me atop the Malvern Hills (another great backdrop for a star) and enjoying a well earned rest at Ducklington...  Mickey couldn't keep his eyes open.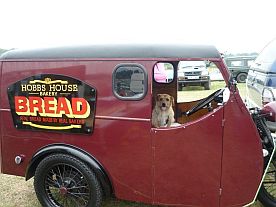 Me (looking good) in a Bakers van at Welland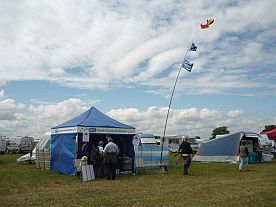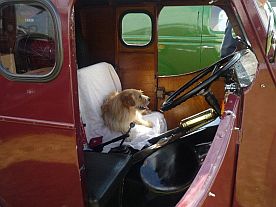 Fundraising at South Cerney.  I would like to thank everyone that bought and donated.  If you want to make a secure on-line donation here and now, please click the banner below.
Out and About with Reggie
First of all, have you seen the video of me?  I mean, I spend all this time writing my blog and, let's be fair, it isn't easy for a dog to use a keyboard...
Anyway, on to even more important things - me.  The second half of the June and the start of July has been extremely busy for me and I am more handsome as a consequence.
As promised, I made a celebrity visit to the RSPCA shop in Cirencester (2 Market Street for the uninitiated) and met some lovely people.  They all enjoyed themselves enormously and I let them adore and touch me.  I think they went home feeling better for having met me.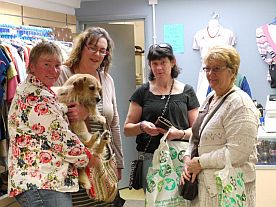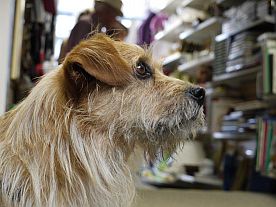 Me at the shop.  I don't think browsing really works for me, it makes my brain hurt trying to work out what all these things are for.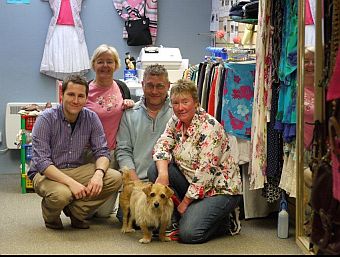 Can you spot the good looking one?
The shop looks good too.  One of my fosterer carers was telling me that they had it refurbished at the beginning of the year - a bit like me.  The amount of gear they had in there is quite bewildering to a little man like me, as you can see from the pictures above.  I also had time to meet little Tiffany (Yorkshire Terrier and shop regular) and she gave me some good tips; not that I can share them with you as we dogs like to keep our secrets.
Our recovering hero goes large
In one of the stunning pictures of me at Berkeley Castle, below, you can see how good I look these days and the beautiful castle had real competition with me in the vicinity.  My coat is luxurious and my brown eyes are fabulous; just what any girl wants.  The castle, on the other hand, is a mere fantastic sight.
Anyway, I have been caravanning at Berkley Castle (A38 and B4066), Lechlade (A417) and Wanborough, near Swindon (just off the A419).  What a globe trotter I have become.  However, I did have a bit of a turn, while caravanning at Berkeley Castle, when I zoomed in to my bed for a bit of a nap and caught myself funny on my, so called, "good" leg; this resulted in another trip to see the vet and the administration of some mighty painkillers.  I must admit that I felt a bit woozy for a time, especially when my foster carers decided to take me everywhere in a pushchair.  Not a good look for a handsome boy like me.  Thank goodness there weren't any girls to be seen.  Honestly, I would have died.
I have also been doing some more swimming but the girls decided I needed a new look.  I can't say I care for it myself and I do look a bit of a weirdo with a pair of tights on my head.  Whatever next?  Will they be training me as a cat burglar; do they get I am a dog?  Anyway, enjoy the pictures and, if you think the RSPCA has done a good job on me, why not send in a donation?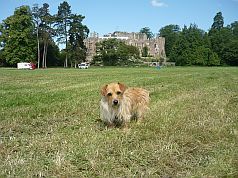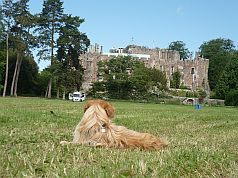 Check me out. Me checking out the competion in the magnificence stakes.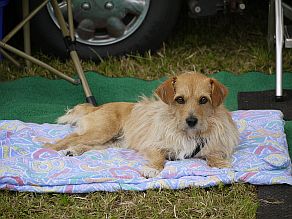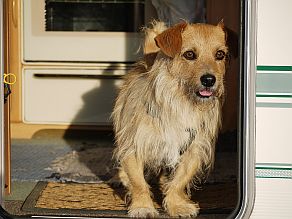 Yeah, I do look good; very good...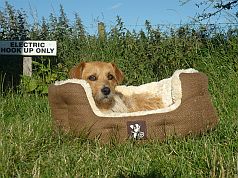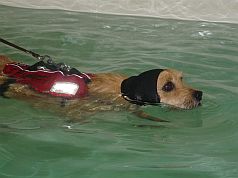 Not a good look.
When I saw the sign, I felt a tingle of expectation...
My Early June Explorations…
Well I have been on my travels again.  This time I went to Barnsley.  Mind you I thought it was in Yorkshire but it took no time to get there.  Still I now know where the B4425 goes.  My road sense is improving all the time.  Anyway, we went to the Cotswold Canine Hydrotherapy Centre where I met Clare and Kate.  Lovely ladies I thought but then they introduced me to "hydrotherapy".  It is definitely a bath and it's not even October when I normally get a bit muddy.  Still it has at least loosened me up a bit and I can now cock both legs.  Ambidextrous widdling is now my forte - watch out trees and anyone who stays still for too long.  Here are some pictures of me in a rather big bath and, if that wasn't enough, being showered afterwards.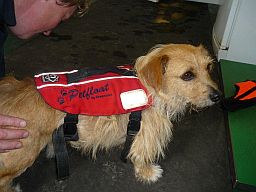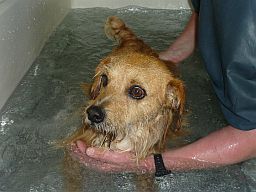 Another update:
What is going on?  They did it to me again yesterday.  Down the 419 to Cirencester, around the bypass and then down the B4425, through Barnsley then turn left.  A dog shouldn't know such things!  I have a horrible feeling that this is going to be a regular feature of my life.  When they said we would be having more adventures this month, I didn't think they meant more baths.  A dog shouldn't be or smell so clean.  It is horrible.  I must find a muddy path to run down, preferably with a puddle or three - that will show them I mean business…  If only I can find some rabbit droppings too.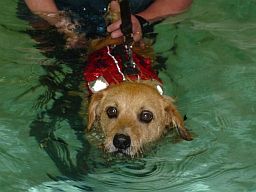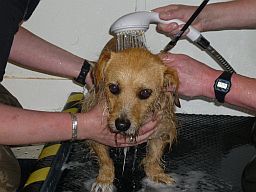 May 2011 update from Reggie
It has been an eventful month in my world and a happy one at that.  I have been whisked off to exotic locations like Cambridge (just off the A38) and Castle Combe racetrack (just off theM4) to experience the joys of caravanning.  I am not entirely certain that it fits with my debonair style but it is a bit of a laugh when the weather is nice.  I had a ride in a nice old (bread delivery) van; personally, I wanted a ride in the butchers van but when you aren't too quick on your pins your choices are limited.
The really good news is that the steelwork has been removed from my leg and I am starting to look a lot better.  I haven't quite got the hang of using all four legs and am being threatened with swimming lessons if I don't buck up my ideas.  Hydrotherapy they call it.  I call it an unnecessary bath.  I will let you know how I get on.  Her are some pictures of my adventures and me relaxing without the steelwork.  Its a dogs life.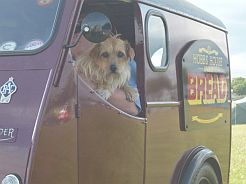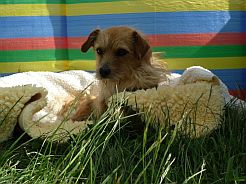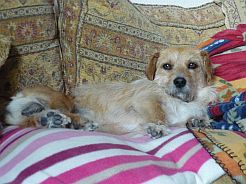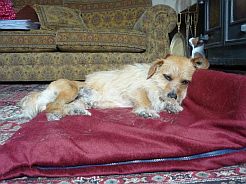 April 2011 update from Reggie
The weather has been quite extraordinary; a bit like me...  I have been taking advantage of the glorious weather to relax, eat good food and work on my health.  As you can see from the pictures below, my leg and pelvis are improving although I still can't use my badly fractured leg properly and, I must admit, the steelwork is still a bit of a problem.
I went to the bingo and raffle evening, organised by Scott & Pat from the Cirencester shop.  It was a lovely evening and lots of people came to admire me.  Even better, everyone who attended raised over £400, which helps provide for local animal welfare.  Where would I be without such generosity?
My foster home is working out nicely, particularly with all the cuddles, brushing and attention they lavish on me but, then again, I am so gorgeous.  They love taking me for a walk.  I think they like to be seen in public with a top glamour puss and head turner.  Just wait until my leg heals and my coat grows...  Enough of my prattling; enjoy my latest pictures, below, and I will give you an update in a few weeks.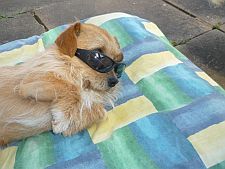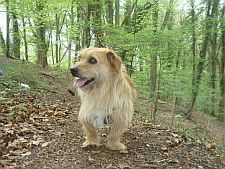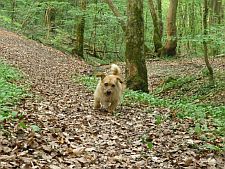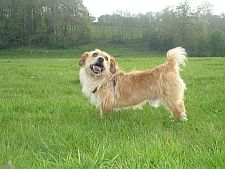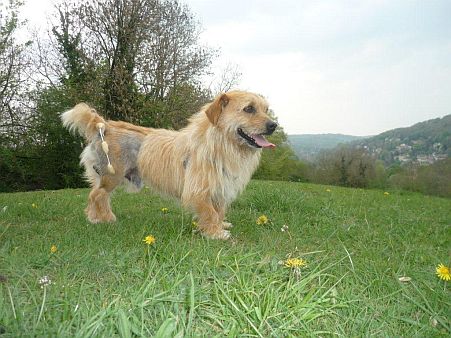 March 2011 update from Reggie
"Thanks to the loving care of my friends at the RSPCA, I am feeling so much better", says Reggie who went on to talk about his recovery...  "When I went under that car, I thought it was all over and couldn't believe it when I woke up in the vets.  They had obviously done a lot of work around my back end and I couldn't believe the steelwork sticking out of my leg.  It all felt really sore, I felt quite woozy and I couldn't stand up".
Some nice people came to see me and I could see that all they wanted to do was cuddle me.  I wasn't having any of that because I felt so poorly.  Anyway, after a few days they came and picked me up to take me to my new foster home.  To be fair to them, they had done a reasonable job of preparing for me with lots of cushions, fresh bedding and good food.  They aren't bad at the cuddling game either.
I suppose I had better talk about my progress so far.  After a lovely trip to Minchinhampton on Sunday to meet lots of RSPCA volunteers, I started to feel a lot perkier.  Sometimes, I can put my leg to the ground although it is still too sore for me to put much weight on it.  I am told that it will be more than two months before the steel work comes off my leg.  I have to say the stitches were a bit of a temptation and I couldn't resist tidying them up with my lovely sharp teeth.  They look very neat now with nothing showing at all and it saves a trip to the vets to get them removed.  I hope my coat has started to come back by the time the steel work comes off, as I want to make a good impression on the local girls...  This is me now, what do you think?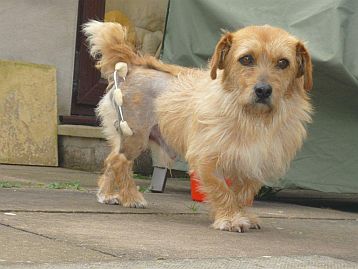 Background
Reggie came into the protection of the RSPCA South Cotswolds Branch after an appeal by a neighbouring dog warden for an animal charity to take on the care of this little man.  Reggie, an 18 month old Border Terrier cross, had sustained some very severe injuries after being involved in a road traffic accident.  One of his little back legs is broken in four places, his pelvis is broken on both sides and he has some very bad bruising.    Despite being in terrible pain and very confused about what has happened to him this little dog has constantly wagged his tail throughout his ordeal.  Reggie has been put back together again and is being loved and cared for by one of our wonderful foster homes.  Every day he is making progress and as he starts to feel more comfortable he loves having a little wander around the garden and sitting out in the sunshine; in time we are hopeful that he will make a full recovery from his injuries.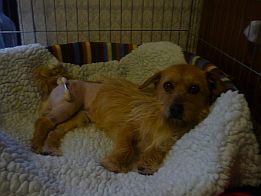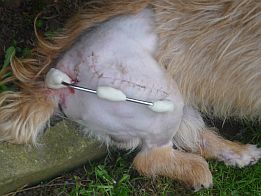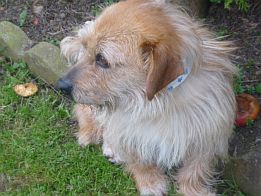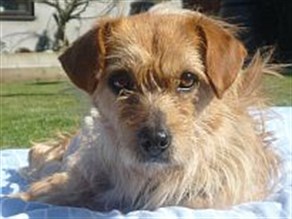 Can you help Reggie?
There are several ways you can help support Reggie:
by making a one off donation; click the banner below to make a secure on-line donation now
sponsoring him with a regular small monthly donation or
simply by supporting our wonderful shops in Cirencester, Stroud and Nailsworth.
For information on helping Reggie by making a personal one off donation please contact us at our office on our Cotswolds Dogs & Cats Home appeal number - 01453 764 429.


We cannot help animals like Reggie without your support!